R E S U L T S
Linefollower


Robot F.A.T. (Andrej Lenčucha, Rafael Gajanec) z Trstenej
Robot Nite_1 (Lukáš Pariža) z
Robot G.ENEK (Mariusz Kaczmarek, Marcin Okarma), Krakow

Micromouse


Robot Gaia (Andrej Osuský) z Bratislavy
Robot Ptuj (Dean Šeruga), Ptuj
Robot roXor (Ján Hudec) z

MiniSumo


Robot MiniKoks (Przemysław Elias, Michał Gazda), Kraków
Robot Boczek (Przemysław Elias, Michał Gazda), Kraków
Robot Jumper (David Miler) z Robozoru

Freestyle


Robot Zebulon (Paweł Bańka, Jacek Chmiel, Julia Szymura), Kraków
Robot Protos 3 (Alexander Sütő) z Košíc
Robot Siemens (Jiří Štěpanovský) z Třebíče

Cena poroty


Robot Futbalista (Janko Briežnik a Martin Melicherčík) z Bratislavy
Robot Martin (Martin Horváth) z Trnavy

Complete results
See the complete results with times, points and lists...

Photo


Video


Visitors
The contest is open to the public and visitors are welcomed. Entry free.

How to get there?

Enlarge Istrobot 2009 map.

P R O G R A M 9. 4.


09:00  Registration.	
09:30  First qualifications for Linefollower, MicroMouse and MiniSumo.
10:00  Exhibition of the Freestyle robots.

12:00  Lunch Break.	

14:00  Opening ceremony.	

14:05  Category Linefollower - final.
14:45  Category MicroMouse - final. 	
15:30  Category MiniSumo - final. 	
16:30  Category Freestyle.	

17:00  Awarding ceremony.	

During the breaks between the categories You can see also:


The Jury

prof. Ing. Peter Hubinský, PhD, URPI FEI STU
Ing. František Duchoň, URPI FEI STU
RNDr. Andrej Lúčny, PhD., Robotika.SK a MicroStep-MIS
Ing. Juraj Čenteš




Live
If You cannot come, watch the Istrobot contest online!
Click here!

New!
Important information about the accomodation.


8. 2. 2011 Registration is open
Registration for Istrobot 2011 is open. Deadline for registration is March, 28th 2011. Don't forget to register in time!
Rules
The task is to construct an autonomous robot that will complete the racing track and negotiate all its pitfalls. The robot must track a black line on the white surface. It contains several obstacles - for example a bridge, tunnel to pass through and a brick to be avoided.
Details...
The task is to construct a robot that can autonomously solve a maze and achieve the goal in the shortest time. When the robot tracks the right hand wall it will solve the maze, but not in the shortest possible time.
Details...
The task is to build an autonomous mobile robot which is capable of pushing its opponent out of the ring. The first robot that touches the outside of the ring loses the round. The first robot to win two rounds, wins the match. Robots are weight and size limited.
Details...
In this category, competitors are encouraged to demonstrate their robotics creations which do not fit into other categories. Each contestant has 5 minutes to demonstrate his or her robot's capabilities. The winner is appointed according to the strength of the audience applause and the jury judgment.
Details...
And for each category also the common rules apply. They deals mainly with the safety issues and materials.
Details...
Registration
Media and advertisment
Press
Download photos and press release..
Download



Different versions of the Istrobot logo [.zip, 109 kB]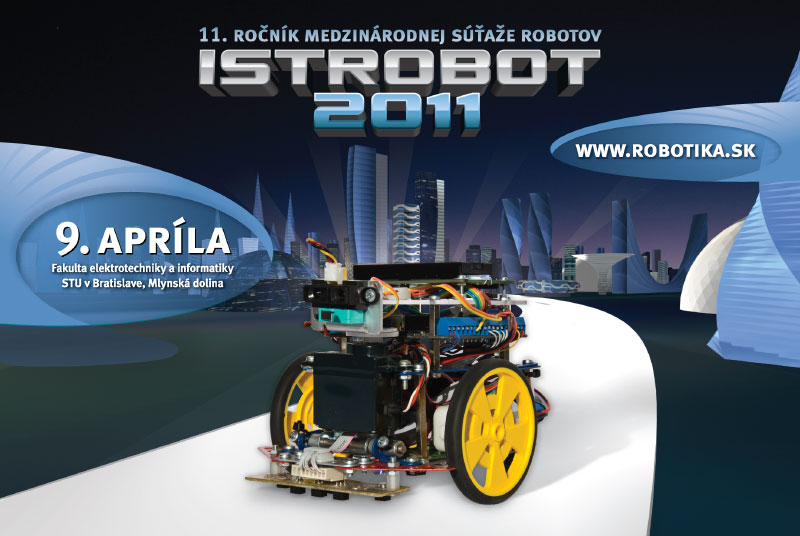 Istrobot flyer 180 x 120 [.pdf, 15 MB]
Istrobot flyer 90 x 134 [.pdf, 15 MB]